Orijin®« Ziinco » Bun
Preparation time : 20 min
Cooking : 3-4 minutes
Difficulty : easy
Ingredients for 6 burgers :
Orijin® Buns: 6 pieces
Minced beef steak: 6 pieces
Sweet onion confit: 60g
Grated cheese: 6 slices
Tomatoes: 2
Red Onion: 1/2
Iceberg salad: 1/4
Gherkins: 2
Head Country® Barbecue sauce: 1 spoon
Salt and pepper

Directions
Slice in slices the tomatoes and the gherkins.
Thinly slice the red onion and prepare the salad leaves.
Keep all aside.
Preheat the oven in grill mode.
Cooking
Cook the steak at high heat, salt and pepper.
Meanwhile, toast the Buns.
Assembly
Spread the sweet onion confit on the Buns bottom, add the tomato, the red onion and the gherkins slices, cover with the minced steak and finished with grated cheese.
Put the whole on a salamander grill or in the oven (grill mode), until the cheese is melted.
Finally, add the salad leaves and close the whole with the top of the Bun that has been covered beforehand with Head Country® Barbecue sauce
Serve immediately and enjoy!
Chef tip:
better with Angus beef meat, minced in a butchery style.
FOR THIS RECIPE,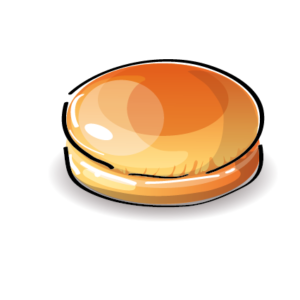 Frozen Buns